pop over to this web-site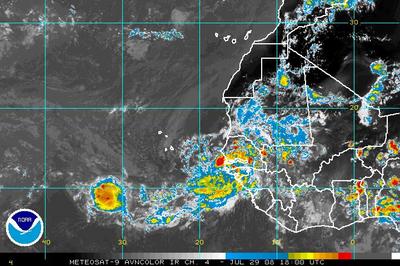 dapoxetine buy blog The tropics are fairly quiet after a couple of interesting weeks. None of the developments over the past month have posed a direct threat to the Gulf Shores/Orange Beach area. Currently, as evidenced below, there is one Invest (area of interest) moving off the coast of Africa.
modvigil australia The tropical wave is disorganized, but does show some potential for development, albeit, assuming it does develop, it would probably become a "fish". (This means that it should meander harmlessly around the Atlantic much like Hurricane Bertha and T.S. Cristobal did in the north/central Atlantic Basin. Invest 98L (depicted above) has an uphill battle ahead of it as it traverses the Atlantic with cooler water temperatures and the dry air from the Saharan dust layer.
If the month of July is any indication, then as we enter the "meat" of the 2008 hurricane season, we should be looking at increased activity through August and September.

More to our immediate concern is the possibility of localized severe storms and flash flooding over the next few days. The primary threat of severe weather should be well to the north of us.