Hurricane Michael has become a major hurricane with maximum sustained winds of 120mph.  At the time of this writing, we are an hour away from the next official NHC advisory, however, there are many indications from the current hurricane hunter mission to suggest that Michael could be a Catagory Four hurricane now, or overnight.
In Gulf Shores and nearby areas, the surf is up and the winds are gradually increasing.  Michael is expected to move to the northeast of its current location, however, a more westward landfall from the current track is not out of the question.  Having said that, at this time our staff does not anticipate hurricane conditions in the Gulf Shores/Orange Beach area, but full anticipate sustained tropical storm conditions.  (Winds 35-50mph).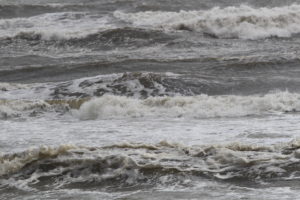 This photo depicts the surf on west beach in Gulf Shores on October 9th, in Gulf Shores.